Distribution Center Careers
Going the Extra Mile.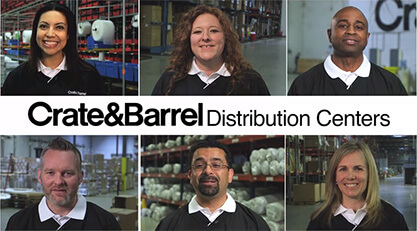 Crate and Barrel Distribution Center Leadership Careers & You - 2:00
From processing orders to delivering store shipments, our supply chain teams go the extra mile (literally!) to serve our customers with care. Our modern distribution facilities use state-of-the-art technology to deliver a streamlined system of inventory control, distribution, and customer relations that support all of our business channels: Retail, Catalog and Internet.
With four state-of-the-art Distribution Centers totaling over 2.5 million square feet, these hubs handle 300,000 units coming and going each day—that's 200 million pieces annually. And we're still growing.
The Logistics and Distribution segment is one of the fastest growing career areas today, and this is where Crate & Barrel is building the retail industry of tomorrow! Our comprehensive training programs will enhance your skills and provide career growth opportunities.
View All Distribution Center Jobs
Work is what we make of it. We make it great―together.
What we can accomplish and how much we enjoy doing it depends on the people we work with. Our team at Crate & Barrel is passionate, hard-working, dependable and fun. We work together to achieve goals, learn new skills and help each other succeed.
Dora

Merchandise Handler Customer Service

"I love my job because everyone has great energy. We're positive, and each and every one of us is willing to do what is necessary to get the job done. It's really gratifying when someone asks me for help and I'm able to resolve any difficulties without a problem. We're in this together."

Jacque

Retail Outbound Lead

"My team is one of the big reasons I love my job. My coworkers are well aware of their own abilities, work together effectively, offer suggestions and complete their daily job duties. That makes it easy to enjoy every day."

Dave

Facilities Maintenance Manager

"I have a great team full of hard workers that I can depend on. We're all in line with the same goal – that customers come first – and they go above and beyond to make sure it happens. They exercise teamwork daily and are very respectful toward each other."

Rosa

Merchandise Handler Customer Service, eCommerce – Returns

"My team makes me feel welcome and supported, and they've valued my efforts since the day I started. They've made sure I've been cross-trained in many areas, and there's always someone available to answer my questions or respond to my concerns – whether work-related or on a personal level."

Lakeitha

Merchandise Handler Equipment Operator

"I love my job because working with our team is like working with family. We all come together to achieve the goal – receiving product in a timely and accurate manner to ensure excellent customer service."

Phillip

Wave Associate

"My team is the pulse that feeds the engine. It's a vast amount of responsibility, which makes me feel great. Looking forward to my workload is a daily pleasure because I work alongside people who feel the same way. You can see it in their actions and words."