Retail Store Careers
Our store associates help bring it home.
Stores are where our brand comes to life through service that sets us apart. Since our first location opened in 1962, our shared passion for exceptional service and product knowledge to inspire modern living brings us face to face with more 25 million customers each year. Our Retail Store teams help connect customers with beautiful products to inspire possibility and envision a purpose-filled home.
View All Retail Store Jobs

Sales and Merchandising Associates
Matching individual warmth with the products in our distinctly modern collection, Sales and Merchandising Associates make our stores as welcoming as possible as they answer our customers' questions and keep the sales floor stocked.

Department Specialists
Talk about dedication. From Kitchen to Rugs and everything in between, our Department Specialists across Sales, Operations and Visuals put their talents to work to make their assigned sections shine. Thanks to their in-depth expertise, we know every customer is in great hands.

Furniture Sales Associates
This team of premier sellers draws on deep product knowledge and trend awareness to help each customer transform their house into a home.

Store Management
The success of our stores largely depends on the hard work, mentorship and dedicated leadership of our Store Managers and Assistant Store Managers across Sales, Operations and Visuals. They share their expertise with their teams and inspire each store to reach its goals.
Careers that are challenging, rewarding and fun!
Associates on our Retail Stores team enjoy a fast-paced environment with new customer experiences each day. Crazy about coffee? Love to entertain? We share our passion for design and function to help customers find just the right product for their home.
Todd

Merchandising Associate

"I'm so grateful for the team that I work with. It's such a fun and positive environment, and there's something new to look forward to every day. All of my team members are such beautiful people and have inspired me so much."

Katelyn

Assistant Store Manager, Visual

"It's a wonderful feeling when a customer likes how we set up the store so much that they want to replicate it in their own home. In addition to being creative, my job allows me to be a coach to an amazing group of associates and work with them to achieve their own career goals."

Jeffrey

Furniture Sales Associate

"The best part of my job is my coworkers. We have such a talented and diverse group at my store. Everyone is genuine and exudes teamwork, from back of house to our sales team on the main floor and my wonderful fellow furniture sales team."

Alexandra

Department Specialist

"At its core, Crate and Barrel cares about every single person within the company – and you can really feel that. During my time here, I've made lifelong best friends and have found new opportunities that I never would have considered without them."

Nicole

Store Manager

"I'm really passionate about developing my staff and seeing people grow with the company. There's nothing better than hiring a seasonal associate, then watching them fall in love with the brand and accept a permanent position. It's even better when they later step into a new role."

Meredith

Assistant Store Manager, Sales

"What I love most about working at Crate and Barrel is developing my associates to help customers across every stage of life – whether they're moving into their first apartment, registering for their wedding or remodeling their home. Our customer relationships really do last a lifetime."

Freddy

Assistant Store Manager, Operations

"This is a company that cares about their associates and really wants them to succeed and grow while they're here. I truly enjoy my job, especially how much variety there is – from interacting with customers to helping fellow associates and being a resource when needed. It's a learning experience every day."
A team that inspires a special kind of person.
Like you.
Our store associates are creative, warm, engaging and helpful because they deliver inspiration about what's possible at home. From quiet dinners that help us stay connected, thoughtful gifts that show we care or lively celebrations that shape the moment, our associates connect the people and products that make moments memorable.
Share your excitement for good design and the pieces you love – it'll help you to connect with our customers.

Be a people person. Every happy customer can be traced back to a warm hello or a helpful answer.

Know your store and the products inside, as well as what your responsibilities are each day.

Support the team. After all, the success of your store depends on what we can accomplish together.
View All Retail Store Jobs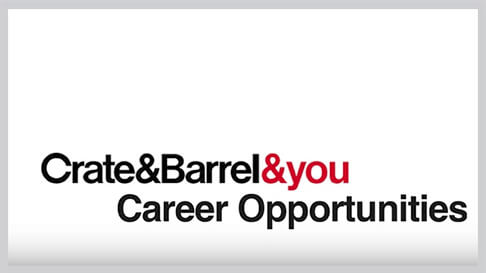 Crate and Barrel, Store Opportunities & You - 1:44
Curious About What's In Store?
Spend a moment getting to know the team. They're personable, fun, and energetic. Most importantly, they love making our customers happy. Hear what they have to say about our store experience and what makes Crate & Barrel a great place to be part of a team.