Corporate Headquarters, Northbrook, IL
Work in a home office that really does feel like home.
Getting as many of our teams together as possible under one roof is part of what makes our company so successful. Located just outside of Chicago in Northbrook, IL, our corporate office is where we share ideas, get inspired and work toward our goals in a beautiful, modern building that's just as distinctive as our brand.
Equally enjoyable are the workplace amenities we get to share. To make sure that our associates have everything they need to fully enjoy every day they spend here, the corporate office features:
Full-service café – Open for both breakfast and lunch, the café offers a wide variety of food options that change every day, plus the convenience of charging meals directly to your paycheck. Additionally, throughout the building there are five pantries with a fridge, coffee machine, microwave and more to make any lunch plan convenient.
Dry cleaning – Provided by an environmentally conscious company, pickup from our office is offered twice a week at a reasonable price.
Fitness center – This 3,500 sq. ft. facility is open 6:00am–7:00pm every weekday and offers cardio training equipment, weight suspension machines, Smith machines, dumbbells and even group exercise classes. Locker rooms with showers and complimentary towel service are also included, and certified personal trainers are available.
Spa treatments – Enjoy free 10-minute chair massages twice every month, schedule affordable weekly manicures or treat your hair to an on-site blowout.
Community garden – Our shared green space is where we enjoy fresh air and exercise our green thumbs. Employee volunteers grow fruits, vegetables and flowers – all of which they are welcome to harvest and take home.
All together it's a lot to love – and a few more reasons why a career at Crate and Barrel is so rewarding.
Osborn

Support Technician

"The corporate gatherings are always a blast. It's great to get together with people you may not come into contact with normally – and because everyone is so friendly, it turns these gatherings into a family environment."

Brian

Treasury Manager

"My favorite thing about being at headquarters is the work environment. From the Crate-inspired desks to the latest technology and even the ridiculously comfortable chairs, we are spoiled so we can concentrate on the work at hand."

Ina

Senior Talent Acquisition Recruiter - Corporate

"I enjoy having the opportunity to meet and work with a variety of really smart, creative and talented individuals from all walks of life – and build lasting, productive relationships with them."
All aboard for a scenic ride to Northbrook.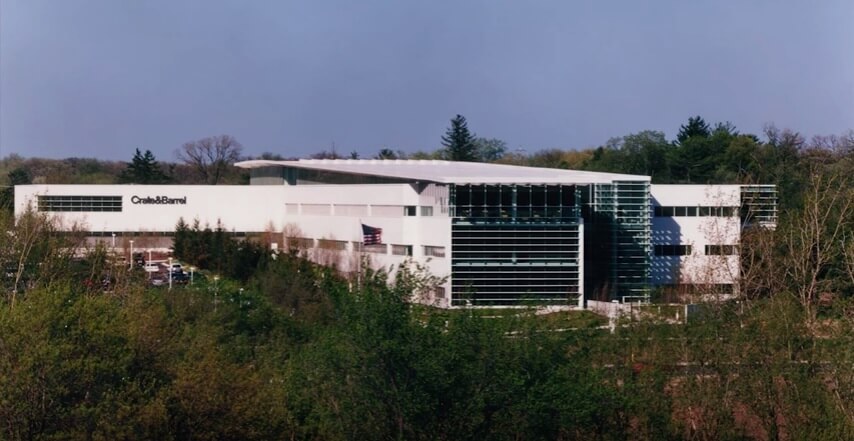 Transport to Crate and Barrel Corporate Office - 0:31
One of the most appealing aspects of our headquarters is its location. Located just outside the city of Chicago, the picturesque village of Northbrook, IL, offers us the best of both the urban and suburban worlds.
Being close to a world-class city means we're always on the pulse of what's going on across the globe, from culture to trends. But being nestled outside the city limits also has it benefits. We have room to grow and access to all the beautiful Midwestern nature around us. Northbrook itself offers excellent restaurants and breweries for lunch, fun festivals, gorgeous parks and a friendly community.
But most of all, Northbrook gives our associates the option of whatever lifestyle they choose. Driving in from any of the Chicagoland suburbs is always easy – and we do everything we can to help our downtown associates get to work as quickly and easily as possible. Whether it's more convenient for you to take the Milwaukee District North Line or the Union Pacific North Line, we offer a free shuttle service to and from both Metra Stations during peak hours.
Michael

Facilities Manager/Project Coordinator

"There are two big things I really love about my commute. Riding the train allows me the time to relax, read or even get a head start on the day. And I really enjoy how the relatively consistent commute time gives me more control of my day."

Daniel

Purchasing Coordinator

"One of my favorite things about taking the train and shuttle to and from the office is that it provides more time to read – or even catch up on work when necessary."

Danielle

Production Design & Development Associate

"Taking the shuttle and train has given me the opportunity to get to know associates on other teams that I wouldn't have otherwise had the chance to talk with. This has broadened my work relationships and also allowed me to meet coworkers who live near me."
Many of our associates have found that their commute becomes an essential part of their routine – either to help them get focused for the day at hand or as a pleasant wind-down to a successful day of work.
Metra Station Train Routes